Mills in Alto Aragón — molino aceitero
Epernon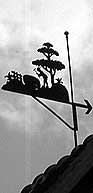 E

pernon
when we first went there in 2003 was worse than La Ferté-sous-Jouarre. We tried our best but found not a hint towards its past in millstones. It was probably too soon after the International Colloquium of 2002. That was a real wake-up call for both Epernon and La Ferté and in 2005 the conservatoire (museum) of Epernon opened its doors. We granted them some grace to get things in order and then paid a second visit to the region.
Pictures: 19.IX.2009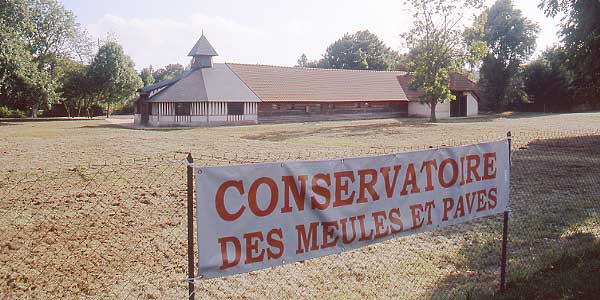 (1) The museum of mill- and paving-stones.
F
irst thing to do in Epernon is to visit Le Conser­vatoire as they call their museum. The displays are wonderful and really educational.
It is annoying though that any other­wise free space on the walls is taken by a no pictures frame.
If Mr. Duc (
†
) is available try a guided tour with him because he is exceptionally knowled­ge­able.
There are some leaflets available also (3). The one about the quarries however made us think that proof reading was skipped. We had quite some difficul­ties in connecting the dots on the map with the real world. Still worth the effort, a must do, no doubt.
T
he advent of Epernon as an important source of millstones coincides with the arrival of the railway in 1849. Before that stones were extracted only for the local market. La Ferté delivered world-wide but struggled with the fact that stocks of raw material ran disturbingly low. La Ferté urgently needed a new source of good stones.
The company du Bois de la Barre (see La Ferté pict. 6, 12) a few years earlier had aggreed to commer­cialize the stones of a certain Joseph Theil who had worked some time in La Ferté and now had a shop in Epernon. So they knew and soon the best stones of the brand were extracted here (‡).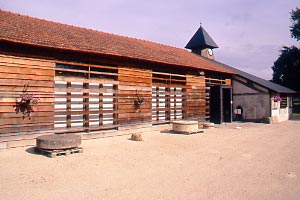 (2) Stones from La Ferté (dark) and Epernon.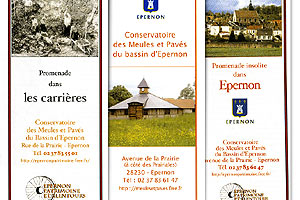 (3) Leaflets with guided tours.
B
efore long a huge surface —between today's Rue de l'Avenir and Route de Gallardon— at both sides of the railway was dedicated to the industry.
Pict. 4 shows the former headquarters of one of the companies. Only a tiny part of the other buil­dings does still exist hidden in some backyard. An interesting feature better preserved is the system to load the stones on the railway carriages. You won't be able to eye it up properly without trespas­sing SNCF property, though. Timing is paramount.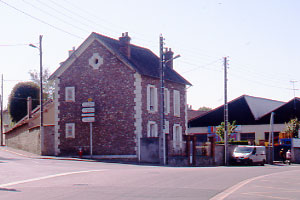 (4) Société Générale Meulière: former Headquarters.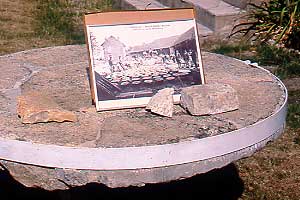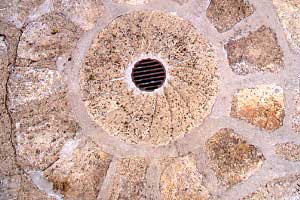 (5, 6) Millstones are everywhere in the garden of the house shown in (4).

(7) Fields and forests along the road from Epernon to Nogent.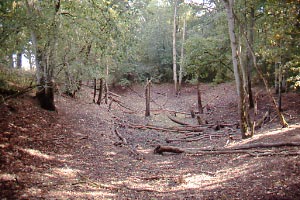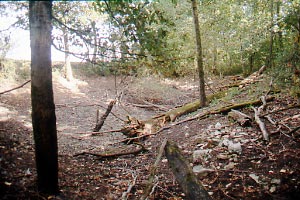 (8, 9) Former quarries.
L
ike in La Ferté after business faded away, the quarries soon filled with water and became hidden below the trees. Some can still be found. A good site to spot them is along the road to Nogent-le-Roi at the outskirts of Epernon.
Walk through the fields towards the trees and explore. There are several old quarries just inside the woods. Look around for fragments of stone so you can appreciate their characteristics.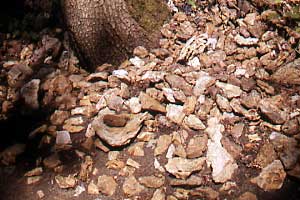 (10) Leftovers of the extraction process.
† — 2005 — Carriers et meuliers de la région d'Epernon
Mairie d'Epernon - Idéogram — ISBN: 2-87933-001-7; 160pp.
  Histoire d'Epernon Volume III
Idéogram - Association Épernon Patrimoine et Alentours — ISBN: 2-87933-005-X; 160pp.
— 2009 —
Piedras de moler nacidas en Francia y olvidadas en el Alto Aragón
— Revista El Gurrión - Labuerda: 117, pp 21-26;
Download PDF file
.
— 2009 —
‡ It is ironical that the technical evolution which made it possible to bring better stones to the humble mills in Aragón —the train— at the same time hastened their death. Railways allowed for produce to be brought down to industrial mills and be freed from the continuous trouble with the local water supply.