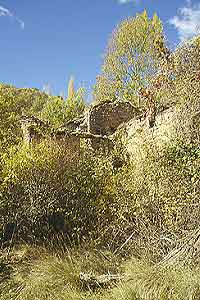 M

ost, if not all, maps of the region feature this mill. This is rather peculiar because the construction is very ruinous and not that easily reached and is not a highly visible landmark either.

As far as I can conclude from the remaining walls, the construc­tion counted two sections: 1) living quarters which took the mayor part of the building and 2) the workplace of the mill which occupied about half of one plant. The house counted probably three inhabitable storeys, the mill only two, the lowest level taken by the cárcavo.

The nicest of the remaining walls coincidently is the front wall of the mill. It took me several hours to cut the abundance of green and thorns away, but the results where worth every scratch. The facade features two lovely windows and a very nice arched outlet of the cárcavo.