Oudenaarde (Belgium); 01.IX.2001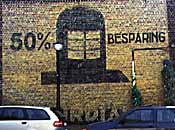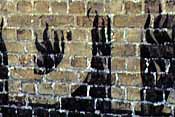 50% Besparing - SURDIAC
or
a saving of 50% with SURDIAC
The wall depicts the typical model of this brand of coal stove with the small windows showing the flames licking the anthracites lively evocated with the burning characters at the bottom.
Surdiac was born in 1921 in Drogenbos (Belgium) and in 1970 absorbed by Nestor-Martin.
Zichem (Belgium); IX.2012; pict. J. Hertoghs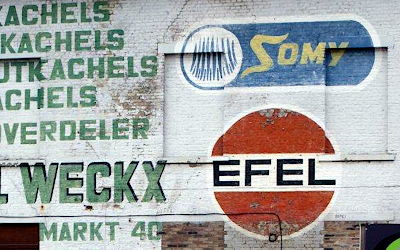 Houtkachels
Kolenkachels
Mazoutkachels
Gaskachels
SOMY
EFEL
or
Wood stoves
Coal stoves
Fuel oil heaters
Gas heaters
In 1949 Victor Rémy (ceo of Ateliers de l'Eau Noire in Couvin (B)) together with Gustave Sottiaux (mechanic and clog maker) devises a new heater burning fuel oil without the unpleasant odor. A new company SOMY was founded and grew to become Belgium's leading manufacturer of stand-alone heaters in 1972. After the oil crisis of 1973, the company struggled and was finally taken over by Fonderies du Lion in 1978.
EFEL is a brand of the latter company, which was born in 1923 and would survive all the other companies. During its life Fonderies bought several other brands: Surdiac, Somy, Ciney, Nestor Martin. After a difficult time it was all over in 2014.
Castres (81 France); IV.2001; pict. C. Morsard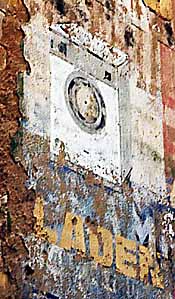 Washing machines Laden
Laden stems from 1953 and is now a popular Whirlpool brand. Their site says Laden is positioned as a value for money brand.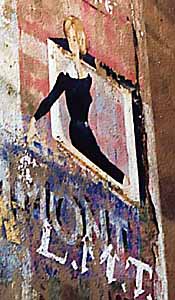 L.M.T. television set.
L.M.T. had television and nice portable radio sets. I'm not sure, but if L.M.T. stands for Le Matériel Téléphonique then it is now Thomson's.
Les établissements Grammont were created in 1849 by Etienne-Claude Grammont. In 1890 his son Alexandre turns the company into electricity: wires, cables, generators and much more. Before the war of 1914 the group — Grammont created many offspring companies — employed more than 2000 people and produced also telephones and military grade wiring and radio tubes. Later on Grammont turned to radio and television sets and the brand ended, like many, under the arms of Thomson.