The upper half of this wall is taken by Renault lubricants in several incarnations. Find better samples in the
Lubricants
.
The dark bottom half, however, is by far the better part as it is an advertisement for a company once renowned for the best mill­stones in the world. The text is almost completely faded away, but still. Most interesting and unique.
A closer look at the Renault layers brings two darker circles to the attention. In my opinion two millstones.
Société Générale Meulière
La Ferté sous Jouarre
Meules et Articles de Moulins
La Ferté was known for the world's best millstones and when modern times took over S.G.M. was the company who sur­vived the longest, until the 1950s.
Our sister site about mills in Aragón runs a page about La Ferté and the company's headquarters are shown in Epernon.
Entreveaux (04 France), VII.2000; pict. M. Guët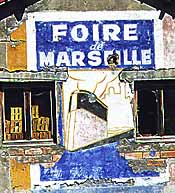 FOIRE
de
MARSEILLE
Marseille is a major harbour. Hence the nice steamer.
Buizingen (Belgium), 16.I.2011; pict. J. Van Hout
1910
Exposition Universelle de Bruxelles
1910
Avril - Novembre

or
World Expo of Brussels
April - November 1910

More info about this expo which was one of the earliest:
Postcards of the world's fair Brussels 1910 (latest check: I.2020)
Hospital de Orbigo (Leon, Spain), VII.1999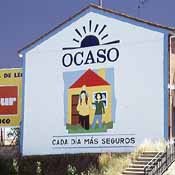 OCASO
Cada día más seguros
Ocaso S.A. was founded in 1920 by Ramón d'Ortega y Hervella and is, following its founder's wish, still independent from other banking or financial groups.
The website at www.ocaso.es offers a short history section in both English and Castellano (latest check II.2020).
Antsirabe (Madagascar), IX.1998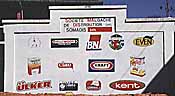 Sociét&eacute Malgache de Distribution
Several brands of different products:
milk, razorblades, cheese, ...
Thies (Senegal), XII.2003;
pict. H. De Meyer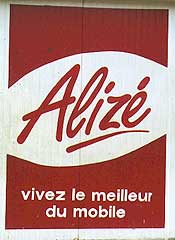 Alizé
vivez le meilleur du mobile
or
experience the best of mobile.
Odisha (India), XII.2006; pict. H. De Meyer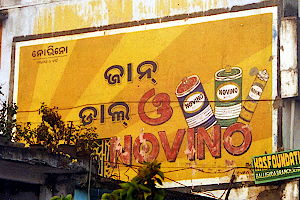 Novino
Lakhanpal National was born in 1972 as a joint venture between Matsushita Electric of Japan and the Indian Mr. D.D. Lakhanpal and is currently known as Panasonic Energy India. Novino was first a brand of batteries, but is currently used for a line of torches. The same batteries are now sold under the Panasonic brand.
Gujarat (India), 15.XI.2013; pict. H. De Meyer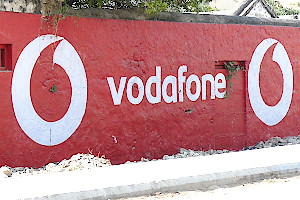 Vodafone
In 1969 the brothers Ravi and Shashi Ruia won the contract for the construction of a breakwater for Madras Port and founded the Essar company. Essar has a rather complex history but if there is one constant it is its tendency to diversify. And so, when in 1995 mobile telephony was opened up to private participation, Essar started GSM operations under the name Essar Cellphones. Partners came and went and the brand became Vodafone in 2007 after Vodafone bought a large stake in the company. Essar sold its stake in 2011.
Saint-Pour&ccedilain-sur-Sioule (03 France), 11.V.2015; pict. J. Helmons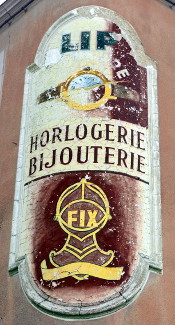 Two brands together in one advert:
LIP: In 1867 a watch making company was born unter the name Comptoir Lipmann after the name of the family. LIP as a brand was registered in 1908 and in 1954 the firm became the number one watch making company in France.
The company under direction of Frederic Lipmann was modern for its time with bright workplaces, company health service and in 1968 retirement for men and women at 63 and 60.
In the 1970s however the situation turns sour. It will take 30 years before the brand under new ownership becomes popular again.
Bijoux FIX: The company was created in 1823 and is presumably the oldest French brand of gold plated jewelery.
Vendôme, RN10 (France), X.2010; pict. A. Guët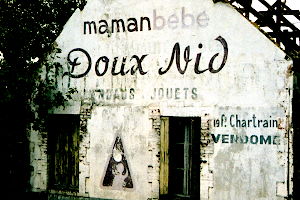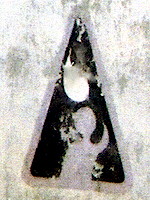 mamanbébé
Doux Nid
landaus ∙ jouets
19 Fg Chartrain
landaus = perambulators; jouets = toys
The warning sign, how must it be read? What exactly is shown? The white blotch, is it a drop of milk?
Products of the same name can still be bought, but today's Doux Nid is likely not related to the occurrence on this wall.