Liège (Belgium); VIII.2002;
pict. J. Muller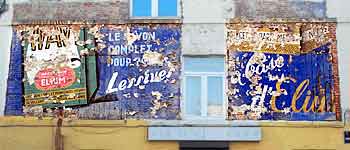 WAVI le savon complet pour toutes Lessives a base d'Elium
or
WAVI
the complete soap for all laundry, based on
Elium
.
I wonder what Elium might be.
The left wing shows the package with a bilingual (French - Dutch) text stating
New - contains Elium
in the red blot and in the yellow rubans repeating that it is a complete product.
The right wing says Glycérine parfumé and gives the NET weigth of the box.