Fort Portal, Uganda, 26.VIII.2011; pict. M. Tailly

Gotta Have Wrigley's Juicy Fruit chewing gum — 4 pellets
Juicy Fruit is the oldest brand in the Wrigley's Chewing gum family. It was introduced in 1893.
The pellet version was launched in 2005. It was cheaper and more affordable for younger consumers.
(Mexico), V.2004; pict. M. Chartier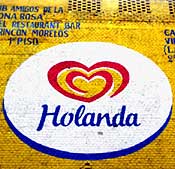 Helados Holanda® goes back to 1927 when Francisco Alatorre opens an ice-cream parlour in Mexico City. People loved it and soon more outlets were needed. The brand was regis­tered as a trade mark at the end of 1938. Thanks to its franchising system Holanda became a great success and almost omnipresent in Mexico. The brand joined the Unilever family in 1997.
As the logo is of the year 2000 type, this must be a recent painting.
Bangalore (India), 16.IV.2010; pict. M. Tailly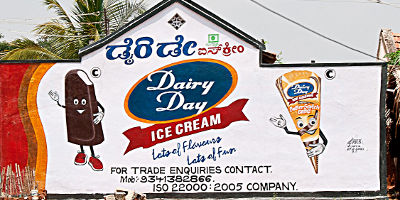 Dairy Day Ice Cream
Lots of flavours - Lots of Fun
Dairy Day is a rather young brand launched in 2003 by some people with a year long experience in the ice cream industry. The Dairy Classic Ice Creams company offers more than one hunderd varieties in all major South Indian cities.
Havmor Ice Cream
since 1944
Both times with a Mango Dolly
It was in 1944 Karachi (Pakistan) that Satish Chona started an ice cream shop in order to supplement his family's income. The brand gained some popularity but in 1947 — India and Pakistan were split — he was forced to move to India. He settled in Ahmedabad eventually and started business again with a handcart at the railway station.
Gujarat (India), 10.XI.2013;
pict. H. De Meyer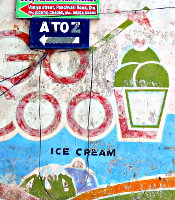 Vadilal Ice Cream
It was in 1907 Ahmedabad that Vadilal Gandhi began a soda fountain. His son started a small outlet in 1926 and it was his heirs who grew the company big and the Vadilal group ventured also into processed food, chemic­als and more.
Just how Google has become synonymous with Search these days, Vadilal is synonymous with ice creams in India. says the brand's website (XII.2013).