Pont à Mousson (France); VI.1999;
pict. A. Guët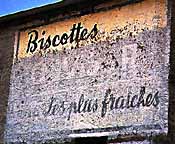 Biscottes
???
... les plus fraîches
Is it only wishful thinking, or is it real? I think there is a Dubonnet man in the dark blot next to this ad.
Brussels (Belgium); XI.1998;
pict. A. Guët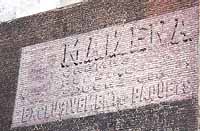 MAIZENA
Crèmes, Puddings, Sauces etc.
Exclusivement en paquets
The same type face is still used today.
Below Maizena on the same wall is a Bovril enamel plate mounted.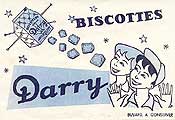 Archives J. Darry
Touques (14, France),
27.XII.2011; pict. A. Guët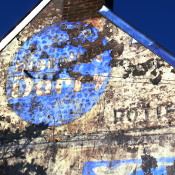 biscottes Darry - Rotie
Shares the wall with Simca.
Fainarantsoa (Madagascar),
18.X.2012; pict. H. De Meyer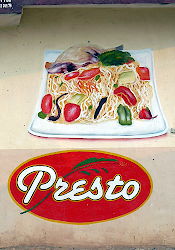 Presto
— Detail of the wall below.
Presto is a brand of HV Industries Ltd. The company was founded in the 1970s by a Hematlal Veljee in Anta­nanarivo and then traded in textile and haberdashery. Since then HV has diversified its business and now has with Presto a high (the highest?) selling brand of noodles in Madagascar.
(Madagascar),
22.X.2012; pict. H. De Meyer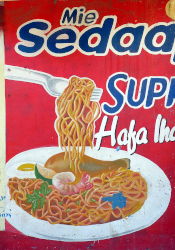 Mie Sedaap Supreme
Mie Sedaap are instant noodles of the Wings Corporation of Indonesia. The company was born in 1948 in East Java when J. Satuari and H. Sutanto started making and selling a simple laundry soap. Today Wings distributes a wide range of personal and home care products and also food and beverages. So-Klin in our Soap section is also a Wings brand.
Fainarantsoa (Madagascar), 18.X.2012; pict. H. De Meyer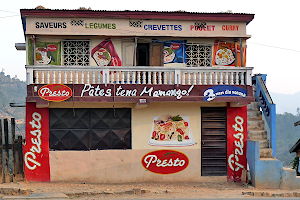 Saveurs ● Légumes ● Crevettes ● Poulet ● Curry
Presto ● Pâtes tena mamango! ● 3 mn dia vonona
or
Flavours ● Vegetables ● Shrimps ● Chicken ● Curry
Pastas with real taste? ● Ready in 3 minutes.
Giens (France); VII.2000; pict. M. Gavotto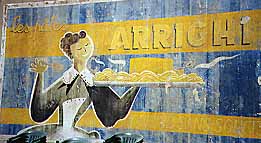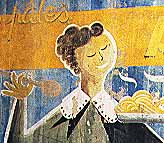 Pâtes ARRIGHI
The lower yellow ribon states: Cuisine sans soucis
Brussels (Belgium); VII.1998; pict. A. Guët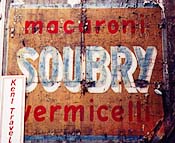 macaroni SOUBRY vermicelli
SOUBRY is a brand of the Soubry mills in the western part of Belgium. Soubry is also the name of the owners of this succesful company.
Mechelen (Belgium); IV.1999; pict. A. Guët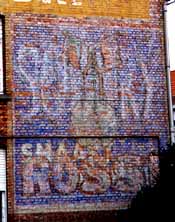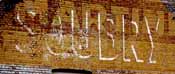 A ghostlike
Soubry
on a wall dominated by Martini. Both brands are repeated on the lower part of the wall. The
Rossi
word hides the message coming with Soubry:
Soubry smaakt ???
or
Soubry tastes ???
Show me a very nice Martini-Rossi wall.
Fort Cochin - Kerala (India);
III.2000; pict. M. Vanhoutteghem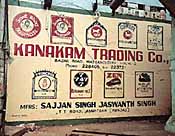 The concise history of
Sant Bhog Basmati
Basmati rice originates from India and Pakistan where several hunderds of varieties exist. It differs from ordinary rice in its long grain and distinctive nutty aroma.
Basmati is expensive and mostly consumed on special occasions only. There has been some commotion when a US company was granted patent for a hybrid they named American basmati.